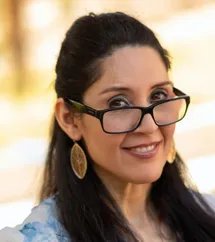 Dr. Veronica Solaris is a warm and compassionate clinician who seeks to provide her patients the insights, skills, and strategies to help them cope with the unique challenges that they may be facing. She works collaboratively to address decision-making and problem-solving issues, to improve interpersonal communication, and to improve her patient's overall quality of life. Dr. Solaris provides a deep and empathetic support to those struggling with grief, loss, and suffering.
Dr. Solaris work focuses on working with people who struggle with a broad range of concerns including depression, anxiety, panic attacks, Post-Traumatic Stress Disorder (PTSD), chronic pain, acute stress, sleep-related difficulties, domestic violence, survivors of trauma, and general difficulties in coping with life's changes. She offers training in both parent skills and anger management training.

Additionally, Dr. Solaris specializes in working with both active and non-active military personnel, first responders, and emergency room providers to address the unique issues relevant to these professions. Issues may include managing the (sometimes overwhelming) levels of stress and symptoms that impact functioning both in the work environment and at home.
Dr. Solaris specializes in helping individuals address issues and complications revolving around chronic pain and assists them with exploring strategies on how to manage and improve the quality of their lives.
Utilizing an integrative approach Dr. Solaris incorporates evidence-based methods including Acceptance and Commitment Therapy (ACT), Cognitive Behavioral Therapy (CBT), Exposure Therapy, Cognitive Processing Therapy (CPT), Seeking Safety, and mindfulness techniques to accommodate each individual's unique needs and assist in their overall recovery and success.
"I believe that a gentle approach establishes a relationship of trust, respect, and empowerment. The mutual therapeutic goal is to resolve emotional distress, to acquire inner peace, to restore meaning back into your life, and to return to being your "Best Self". My work seeks to meet each patient where they are and to guide them using their own unique resiliencies and natural strengths. These skills and tools are designed to allow each person to more than simply "survive" but to thrive in the face of all of today's diverse challenges."
Veronica Solaris, Psy.D. (CA# PSB 94024621) is a registered Psychological Associate at The Halliday Center for Psychotherapy and Wellness, Inc. working under the supervision of Debra Halliday, Psy.D. (CA# PSY 23206). Dr. Solaris received her Doctorate in Clinical Forensic Psychology at Alliant International University in San Francisco and is currently completing the final process for her to obtain her psychologist license.
"Hablo Español."